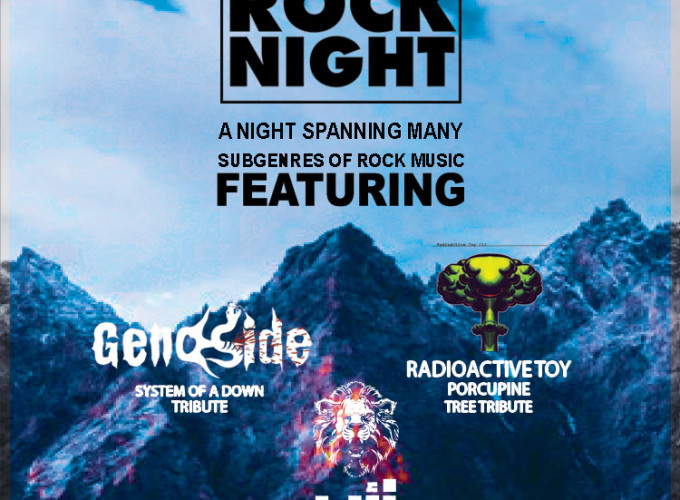 Rock Night
About
GenoSide is a System Of A Down tribute band from Cairo that was founded by Ahmed Bassiouni (Drums) and Ismail Morsy (Guitar), and was soon after joined by Kareem Waseem (Bass) and Mazen Waleed (Vocals). Yahya Shabayek later joined the band on Keyboard and Rhythm Guitar to make the lineup complete. GenoSide aims to bring the SOAD experience to Egypt and share their legendary tunes with their fans in a live setting
Radioactive Toy is a Progressive Rock and Metal band initially founded by Youssef El Kenany( Lead Guitar) and Youssef Fahmy (Bass), the ultimate purpose is to bring the authentic Porcupine Tree sound to Egypt. Radioactive toy was later Joined by Ali Hosam (vocals and keys), Mahmoud Mansour (Rhythm Guitar), Monica Roshdy (backup vocals), Abdallah Nasser(synths), Aly el Rawy(Drums). Together, they strive to deliver the utmost authentic experience of Modern prog rock.
Zaeer is a Hard Rock/Heavy Metal band that was formed in 2019 consisting of Adham Ashraf on Bass Guitar/Backing Vocal, Omar Sabry on Lead Guitar, Adriano as the Main vocal and Mohamed Amr on Drums.
Zaeer is known to play Arabic original songs and has already 3 singles released : El Taree, Ayamna, Lagham on all platforms that took the Rock scene by storm!
---