El-Sawy CultureWheel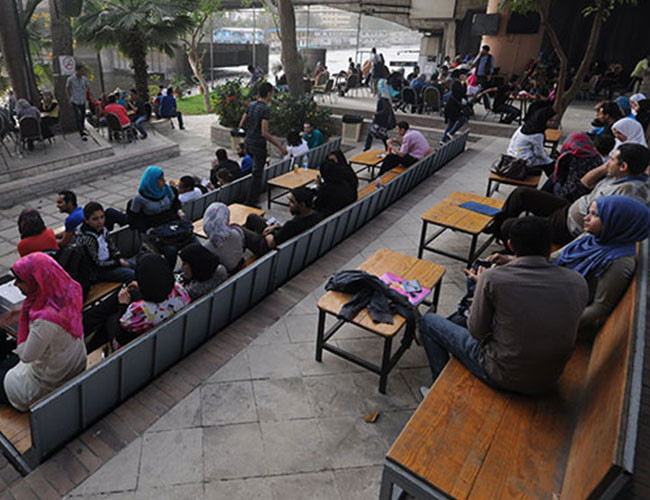 The story
December 2001, beneath the 15th of May bridge in Zamalek.
" I arrived at the Abu el Feda tunnel to try and figure out how to make use of it for advertising purposes. I noticed a big opening in one of its walls and was taken by my curiosity as an architect to explore the empty space behind the tunnel. I was surprised to see a huge pile of garbage and trash, but it quickly disappeared and was replaced, in my mind's eye with a complete theatre with lights and curtains. I found no escape from holding on to that image and trying to make it a reality."
This is what took place in Engineer Mohamed Abdel Monem El Sawy's imagination. This idea made itself prominent in his meeting with Dr. Abdel Rahim Shehata, may his soul rest in peace, the then governor of the city of Cairo. Dr. Shehata surprised everyone with his approval to allocate that deserted land into a space dedicated to culture. A space that would carry the name of the distinguished author Abdelmonem El Sawy, a man of prominent standing and a master who raised countless of the governor's generation, as the governor himself put it. This venture required great creative energy, and it was accomplished through the cooperation of a great number of creative youth, who shared the dream and devoted themselves to its completion and continued development.
What's behind the name?
I've been asked hundreds of times about the secret behind the name El Sawy Culture wheel. I never got tired of answering and clarifying this question, and I still find it an opportunity to emphasize the following:
My gratitude and appreciation towards my father, Abdel Monem EL Sawy, may he rest in peace, which obliged me to have his name associated with the space
I wrote on a blank sheet classical titles for the space, such as Abdel Monem EL Sawy's Cultural Centre, Abdel Monem EL Sawy's complex for Arts, Abdel Monem El Sawy's Art Halls. I found myself crossing all these titles out and replacing them with Elsakia. Then, in the following line, I wrote, El Sawy Culture Wheel. I was joyed with using the title, Sakia, from one of his most famous novels, which he wrote in the sixties of the last century, and was turned into an extremely successful television series at the time, that aired all over the Arab world.
I chose "Sakia", culture wheel, for its Egyptian heritage and historical breadth, and as a symbol associated with prosperity, bearing thought and culture.
The Space
Elsawy Culturewheel is a full scale cultural center. Established in 2003 as a beacon of light seeking to energize artistic and cultural productions by providing spaces, stages and the necessary equipment for a variety of art forms to see the light. In so doing, it follows the ideas and guidelines of its namesake, the prominent author, thinker, journalist, and minister of culture, Abdel Monem El Sawy, may his soul rest in peace.
The Centre cooperates with various entities and cultural centers both internationally and locally. As well as providing additional benefits to NGOs, civil society institutions, universities and schools.
The Venue encloses 5000 square meters of land under the 15th of May bridge on the island of Zamalek. The Centre boasts 5 theaters, the River Hall, the Wisdom Hall, the Word Hall, ElSakia Garden stage and Bostan El Nile stage). All five theaters are equipped with cinema screens and audio-visual aids. As well as five additional halls for workshops and conferences.
Elsawy Culturewheel hosts and conducts countless workshops directed at teaching various artforms at different levels, whether for beginners or advanced students. The Centre today offers no less than 3 performances every day over the course of the year. These events appear on local media channels, internet radio stations, and social media platforms.
The program includes a diversity of Art Shows (performing arts and visual arts) all year round including Cinema, feature film, documentaries, short feature movies, photography, sculpturing, pottery, fashion, design, short courses, talks, puppet theater, concerts, galleries, poetry nights, stand-up comedy, and more.
Elsawy Culturewheel holds more than 30 festivals and competitions each year. The competitions include fields such as photography, short films, narrative films and short stories. While the festivals have been as varied as, El Sakia Spring Art Exhibition, El Sakia Documentary Films Competition, ElSakia theater festival, the chocolate festival, El Sakia Cell Phone Camera Movies, and a number of music and art festivals, as well
The Vision
An ethical Egyptian environment that motivates people to develop and strengthen their culture through arts, enlightenment & creativity.
Mission Statement
To cooperate with artists and organizations to highlight the importance of culture as being the main pillar of the Egyptian society
Elsawy Culturewheel turn lights on
Our goals:
Preserving the Egyptian, Arab identity with its thousands of years of heritage.
Eradicating negative inherited values and creating innovative, positive ideas.
Establishing new, attractive, standards for awareness campaigns, and motivating creativity, and human development.
Restoring Egypt's leadership role among Arab and African nations, as one worthy of honest competition in the creative fields both locally and regionally.
Strategies
Setting ambitious plans, based on diversified arts and cultural services
Applying equal measures and conditions in dealing with artists of the same field
Treating all visitors equally regardless of their status: social, official, economic…etc.
Encouraging young and new talents by offering them opportunities to perform or present their works
Supporting intercultural exchanges and cooperation to widen the scope of cultural resources
Trying to offer lots of activities for free and keep prices as low as possible for the rest
Respecting people's wishes, opinions and criticisms, and taking them into consideration for future planning
Involving Sakia friends and volunteers in various projects and missions starting from simple tasks such as controlling gates
Maximizing hours of operation (7 days a week, 17 hours a day, all year round), utilizing all halls and stages
Applying the latest technologies and administrative methods, as well as humane measures
Unique marketing approach that enhances sponsorship spirit rather than the 'give & take' spirit of advertising
Taking a social responsibility by creating & conveying awareness messages and campaigns for the society
General Rules:
Mutual affection and respect are the basis of all interactions within the space. Our employees are committed to these values with members, visitors, creatives, and colleagues. On this basis, we ask of our members their commitment to the following general guidelines:
Refrain from disturbing others through noise and fast, erratic movement
Polluting the waters of the river Nile is absolutely forbidden
Everyone is bound to rules of hygiene and general tidiness
Smoking is prohibited on all of the spaces' premises
No food and beverages from outside will be allowed at the venue
Social Media Platforms and Outreach:
https://www.facebook.com/Sawy.Culturewheel/
https://twitter.com/Sakiatweets
https://www.instagram.com/elsawyculturewheel/
https://www.youtube.com/user/Elsakiatvconcerts