El-Sawy CultureWheel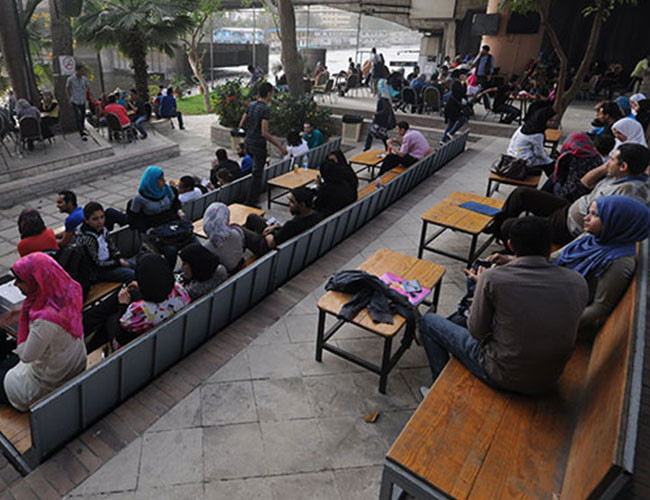 December 2001, beneath the 15th of May bridge in Zamalek.
" I arrived at the Abu el Feda tunnel to try and figure out how to make use of it for advertising purposes. I noticed a big opening in one of its walls and was taken by my curiosity as an architect to explore the empty space behind the tunnel. I was surprised to see a huge pile of garbage and trash, but it quickly disappeared and was replaced, in my mind's eye with a complete theatre with lights and curtains. I found no escape from holding on to that image and trying to make it a reality."
This is what took place in Engineer Mohamed Abdel Monem El Sawy's imagination. This idea made itself prominent in his meeting with Dr. Abdel Rahim Shehata, may his soul rest in peace, the then governor of the city of Cairo. Dr. Shehata surprised everyone with his approval to allocate that deserted land into a space dedicated to culture. A space that would carry the name of the distinguished author Abdelmonem El Sawy, a man of prominent standing and a master who raised countless of the governor's generation, as the governor himself put it. This venture required great creative energy, and it was accomplished through the cooperation of a great number of creative youth, who shared the dream and devoted themselves to its completion and continued development.
The Space:
El Sawy Culturewheel is a full scale cultural center. Established in 2003 as a beacon of light seeking to energize artistic and cultural productions by providing spaces, stages and the necessary equipment for a variety of art forms to see the light. In so doing,
it follows the ideas and guidelines of its namesake, the prominent author, thinker, journalist, and minister of culture, Abdel Monem El Sawy, may his soul rest in peace.
El Sawy Culturewheel cooperates with various entities and cultural centers both internationally and locally. As well as providing additional benefits to NGOs, civil society institutions, universities and schools.
Our goals:
Preserving the Egyptian, Arab identity with its thousands of years of heritage.
Eradicating negative inherited values and creating innovative, positive ideas.
Establishing new, attractive, standards for awareness campaigns, and motivating creativity, and human development.
Restoring Egypt's leadership role amongst Arab and African nations, as one worthy of honest competition in the creative fields both locally and regionally.
General Rules:
Mutual affection and respect are the basis of all interactions within the space. Our employees are committed to these values with members, visitors, creatives, and colleagues. On this basis, we ask of our members their commitment to the following general guidelines:
Refrain from disturbing others through noise and fast, erratic movement
Polluting the waters of the river Nile is absolutely forbidden
Everyone is bound to rules of hygiene and general tidiness
Smoking is prohibited on all of the spaces' premises
No food and beverages from outside will be allowed at the venue