Puppet theatre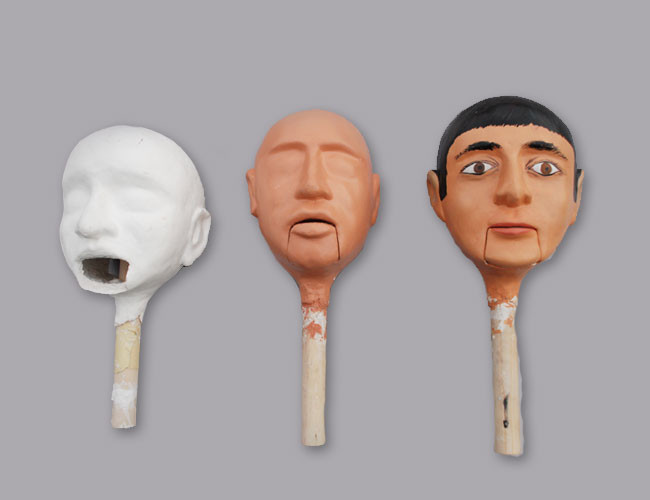 El Sakia Puppet Theatre
El Sakia's founder, Mohamed Abdel Monem EL Sawy, began his relationship with the puppet theatre while still a student in secondary school at the German school in Cairo (DEO). It was there that he learnt the art of creating and operating marionettes through his teacher, the German instructor and puppeteer, Jörg Mast. (Two years after founding the Sakia Puppet Theatre, EL Sawy wished to impart his extensive knowledge and experience with marionettes onto a new, talented generation of puppeteers, these students now form the core of El Sakia's puppet company).
Work began in El Sakia Puppet theatre in 2005 with the performance of its first play, "The Big Pipe"written and directed by El Sawy. In the same year, a school for teaching the making and operating of puppets was created. That was followed in 2006 with the achievement of a personal dream for Engineer Mohamed EL Sawy, with work on "Om Kolthoum Back on Stage" coming to life.
A production that would feature Om Kolthoum on the first Thursday of every month regularly following her custom during her life with her audience, on stage, and El Sakia Puppets performs her songs with all the members of her orchestra represented.
The popularity of EL Sakia's Puppet Theatre grew dramatically with the Om Kolthoum shows, a reflection of Om Kolthoum's unrivaled status and mastery in Arab and Oriental music.
Not only did he succeed in returning the diva to the limelight, he also saw the stage debuts of the legends Abdel Halim Hafez, Shadya, Fareed El Atrash, Mohamed Abdel Wahab, Mohamed Munir on El Sakia's stage (Listed in order of their appearances on our stage).During the past years, El Sakia also presented some 20th century Western legends like Abba, the Beatles and Armstrong.
EL Sakia Puppet Theatre has produced 18 family friendly productions, as well as musicals featuring famous Egyptian and Western stars. El Sakia Puppet Theatre performs both in El Sawy Culturewheel and in outside venues, and participates in musical and theatrical festivals both in Egypt and abroad.
For more information about our plays, click here (https://www.culturewheel.com/en/about-us/vrqkvl1oyg/aW8kWA1R6N ) and follow us on our Facebook page here (https://www.facebook.com/SakiaPuppetTheatre)
El Sakia's Plays. Written and Directed by Mohamed Abdel Monem El Sawy:
The Big Pipe, 2005
Sorry, and Thankyou, 2006
My Great Great Great Great Great Great Grandpa,2007
The Incredible Child, 2008
A One Legged Bird, 2009
Yousef and His Big Secret, 2010
The Sun Has Disappeared, 2011
The Yellow Frog, 2012
The Ant's Friend, 2013
The Diaries of A Potato, 2014. (A Potato's Diary)
Tarzan's Lap. 2014
More Precious Than Gold, 2015
A Potato's Diary: Potato Got Talent, 2016
5 and 5, 2016
The Animal Queue, 2017
The Chocolate Museum, 2018
Salim and Salima, Nestle's Initiative, 2019
A word of two letters 2020
Musical Plays:
Oum Kulthoum Returns- Abdel Halim- Abdel Wahab- Farid El Atrash - Shadya - Munir - The Beatles - Abba -Armstrong.
Excerpts From Famous Comedy Plays:
"Five To" : Mary Munir and Adel Khairy.
"Raya w Sakina" : Shadya, Soheir El Bably, Adbel Monem Madbouly and Ahmed Bedeir.
And the company continues to produce.
Request an application form