Puppet theatre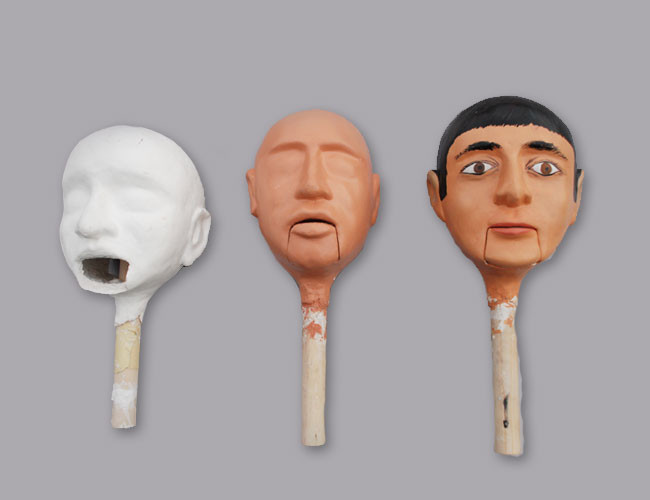 The relationship between the founder of El Sawy Culturewheel; Mohamed Abdel Moneim El Sawy and puppet theater has not been cut out since his studies at the preparatory stage of the German Evangelical Secondary School in Cairo. El Sawy learnt the art of puppeteering by the German teacher and puppet artist Mr. Joerg Mast. Two years after the establishment of El Sakia, Mohamed El Sawy wanted to transfer his experience in this field to a group of talented young people who became the core of EL Sakia Puppet Theater.
EL Sakia puppet Theater started in 2005 with the play "El Masoora El Kbera" by Eng. Mohamed El Sawy. In the same year, a school was established to teach the art of puppetry in the framework "Agazti" Festival for children. About a year later, the "Um Kolthoum" project started and has continued until now. A monthly concert is held on the first Thursday of each month, in which El Sakia presents a puppet theater for Um Kolthoum and her entire musical band. The staff encouraged him to provide more work for children and adults. El Sakia puppet theater has 25 members, and the door is still open for training and inclusion of more artists. For 14 years, EL Sakia Puppet Theater has produced 15 plays for families and concerts for adults that present several Egyptian and foreign singers. EL Sakia puppet Theater presents its performances inside and outside El Sakia and participates in musical and theater festivals locally and internationally.
Written and directed by Mohamed Abdel Moneim El Sawy:
2005 The big pipe "El Masora El Kbera"
2006 Regretful and thankful "Mota'sef Motashaker"
2007 My great great great great great great gramdfather "Ged Ged Ged Ged Ged Ged Gedy"
2008 The miraculous child "El Tefl El Mogaiza"
2009 A bird with one leg "Asfour Be Regl Wahda"
2010 Yousef and his big secret "Yousef Wa Sero El Kbeer"
2011 The Sun disappeared "El Shams Ekhtft"
2012 Yellow Frog "El Dofda3 El Asfar"
2013 A Friend of Ants "Sadeeq El Naml"
2014 Diaries of a potato "Mozkrat Batatsaya"
2014 Tarzan Stone "Hagar Tarazan"
2015 More expensive than gold "Aghla Mn El Dahab"
2016 Diaries of a potato / Potatoes got talent "Mozkrat Batatsaya / Batates got talent"
2016 Five past five "Khamsa wa Khamsa"
2017 Animal Queue "Tabour El Haywnat"
2018 Chocolate Museum "Mathaf El Shokalata"
2019 Salim & Salima
Musical performances:
Um Kolthoum - Abdel Halim - Abdel Wahab - Farid El Atrash - Shadia - Mounir – The Beatles – ABBA - Armstrong.
Excerpts from famous comedies:
Ela Khamsa by "Mary Mounib and Adel Khairi".
Raya and Sakina by "Shadia, Suheir al-Babli, Abdel Moneim Madbouli and Ahmed Beder"
The projects are still on going.