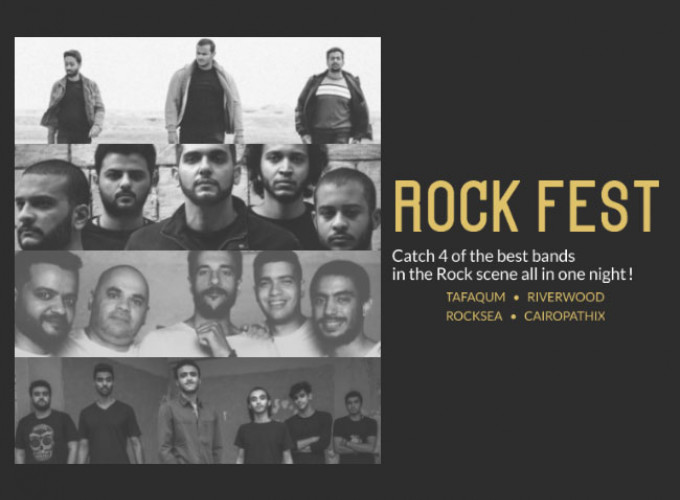 Cairopathix-Riverwood-Rocksea-Tafaqum
About
Cairopathix is a hard rock band based in Cairo, Egypt. The band started in March 2018 when the keyboardist and the songwriter Nour Eldeen Khaled met the rhythm guitarist Hassan Araby and the lead guitarist Mohammed Selim. Fueled by a mutual interest in rock n roll music, the three began to work on original material. The band was soon joined by the lead singer Sherif Tantawy and followed by the drummer Marwan Mahmoud and by the bassist Mostafa Nazir. The band is heavily influenced by rock n roll and metal bands in general. The band aims to become one from the most influential bands in the rock n' roll music scene.
Riverwood was formed by Mahmoud Nader in Feb 2018 after he has done writing the story behind the first Debut album "Fairytale "Along with his friend Rowan Mohammed. 
Mahmoud has contacted his friend Omar Salem to join him in the long musical journey and from there the two started working on the album and rewriting 6 Songs that Mahmoud has written 2-3 years ago and adding some middle eastern musical instruments like Flute, Nay, Percussion, Fiddle, cello and Violins in order to get that middle east influenced sound blended into the album and creating that unique atmosphere.
Rocksea (the sea of rock music)
Our music journey started in February 2019
We plays different genres of music (rock,reggae,pop)
We launched our first album TAQA MAKBOUTA
Included 9 songs (TEB'EY MAAYA , ANA KALB, WAHDA FI EL WOGOOD, TAQA MAKBOUT, KA'EN EL ENSAN, KALAM W AHDAS W AFLAM, BAHEBEK MOOT, KHAYEF)
Rocksea's band members
Ahmed Farghal (vocal & songwriter)
Mohamed Salah (lead guitar)
Abd el-rahman el-komy (keyboard)
Wael Ghanem (Drummer)
Yousef El-gharabawy (bass guitar)  
We have been friends for a while now and each one of us has had the experience of playing more than one instrument, we used to jam together countless times until a couple of years ago when we started to write and compose our own original songs. Then we decided that it was finally time to come out to the world with our Rocksea music.
Tafaqum is an oriental progressive metal band from Cairo, Egypt. Better known for the Egyptian Arabic lyrics combined with Metal music,formed in late 2014.
The lyrical themes are mainly about life experiences, personal and social issues. And all lyrics are in Egyptian Arabic.
The name Tafaqum | تفاقُم is inspired by the misconceptions of the Egyptian society about Metal music having its abnormal customs and traditions.
Tafaqum released two single tracks: "Mawal El-Khatawi" and "Noah" in 2015. And three single tracks: "Weswas", "Shayeb Kotshaina" and "Mayiet?" in January 2017.
And the full-length debut album "Taht El-Talab" at May 5th, 2017. The band is working now for its new album.
Band members: Magdy on drums and vocals, Jonathan on guitars and longtime friend Mohammed Medhat on bass.
---
---