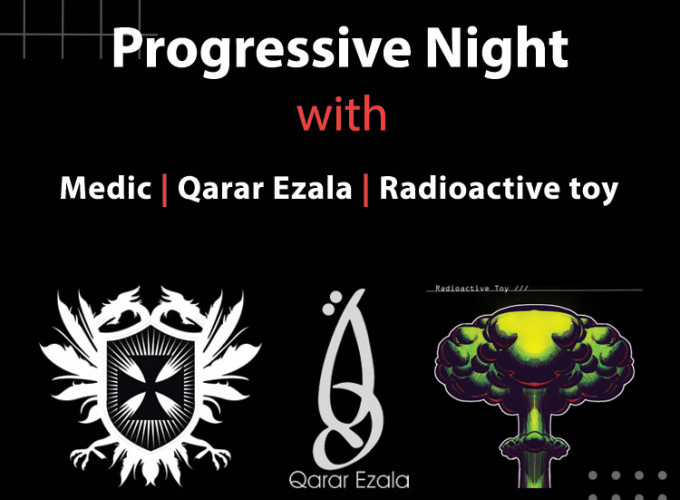 Qarar Ezala-Radioactive Toy-Medic
About
Medic is a progressive Rock band established in 2005 and is based out of Cairo, Egypt. Over the years the band evolved with several member changes until they found the perfect formula with its current lineup. Each member of the band enjoys a variety of different genres of music. The presence of such varied influences created the band's original versatile sound. "Ascension" is Medic's first full length album. It is a concept album inspired from true historic events. The album tells the story through music, lyrics, & visual content.
Radioactive Toy is a Progressive Rock band founded by Youssef El Kenany and Youssef Fahmy, it's ultimate purpose is to bring the modern Progressive rock and metal scene to Egypt, with bands like Porcupine Tree, Opeth and Tool. Radioactive toy was later Joined by Ali Hosam (vocals and keys), Mahmoud Mansour (Rhythm Guitar), Amina Samaha (backup vocals) and Ahmed Riad (Drums). Together, they strive to deliver the utmost authentic experience of everyone's favorite Progressive Metal bands.
"Qarar Ezala"' is an independent Oriental Progressive Rock band from Alexandria,Egypt.
Was formed in October 2012 by "Yassin Mahgoub" the main vocalist and composer since then the band went through many lineup changes.
The lyrical themes of "Qarar Ezala" deal with socio-economic issues in the Arab world combined with the band musical identity as a fusion between modern progressive rock and oriental melodies.
---
---